Write a report describing the Fertility Rate ( births per woman) in gulf countries between 1990 to 2000 in the graph below. You should write at least 150 words. You should spend about 20 minutes on this task.
---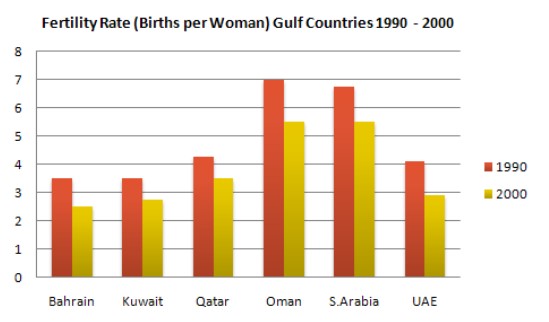 The bar graph displays the birth rate amongst five middle east nations between 1990 and 2000.
Overall, the birth rate was higher in 1990 compared to 2000 across all the gulf territories. Additionally, Oman had the highest fertility rate in 1990.
Bahrain had close to 3.5 in 1990, and ten years later, the natality reduced to approximately 2.4. Furthermore, Kuwait had the same fertility rate as Bahrain in 1990, with a minimal reduction to 2.8 a decade later. Qatar had a nearly 4.2 birth rate initially in 1990, which slightly fell up to 3.5 in a period of ten years.
Oman had an exponential rise in 1990, which was at 7 but reduced slightly to 5.5 in 2000, followed by Saudi Arabia, the second-highest in terms of fertility within the year of 1990, but its rate declined up to 5.5, equalling the natality in Oman within the year of 2000. Lastly was UAE with a birth rate of around four which then fell off to nearly 2.9 in the space of ten years.
Follow Us on IELTSFever Twitter