Talk about which people like to eat at special events.
Well, India is a diverse country where people celebrate a variety of events or festivals such as Diwali, Holi, Baisakhi, birthdays and so on. On these events, people like to eat a number of dishes because Indian people are foodie persons. Here I would like to talk about foods which people special events.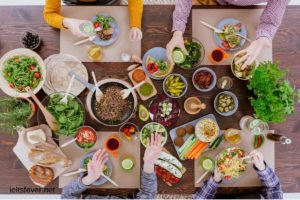 First and foremost food is Gujiya. It is from the Rajasthan state of India but in all the states of India, people like to cook it and eat it. Especially, people eat it on Holi festival. They think that Holi is not celebrated without Gujiya. The main ingredients in this food are condensed milk, dry fruits, wheat flour, sugar and so on.
To add to it, my mother also cooks this type of food at the Holi festival. I love to eat it. Apart from it, a special food named jalebi has not only eaten in Punjab but also in other states of India such as Haryana, Rajasthan, Maharashtra, Madhya Pradesh and so on. It is one of my favorite food.
Lovingly, I eat it on Diwali and Baisakhi festivals. The main ingredients of jalebi are wheat flour, sugar, and oil. It is also known as sugar tube because of its Round shape.
Moreover, in Punjab, people eat a special food named maize chapati with gravy of mustard leaves. It is a traditional food of Punjab because only ladies can cook it tasty. It is made on a clay shield by putting mustard leaves in a stockpot as well as maize chapati has cooked on dripping pan. This food is eaten by the Punjabis Lohri festival. All in all, these are special foods people eat at different festivals and they love to cook it my own.