The diagrams below show the stages and equipment used in the cement-making process and how cement is used to produce concrete for building purposes. Summarise the information by selecting and reporting the main features, and make comparisons where relevant.
---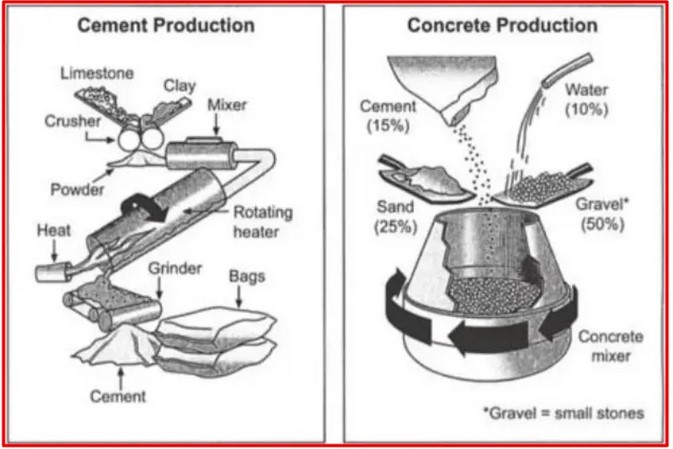 The picture depicts the making process of cement and concrete production.
Overall, it can be seen that there are more steps involved in the production of cement whereas, a few steps are required for concrete production.
To start with the cement-making process, limestone and clay are added into the crusher, which then gets mixed with the help of the crusher to get powder. This powder is then added into the mixer; it will then be taken into the rotating heater where, at the bottom, heat is helping to complete the process, and the mixer is poured onto the grinder for turning that mixer into cement which is then packed into the bags.
However, the steps into making concrete production are few. They are starting with adding cement and water ( 15 and 10 per cent respectively) along with sand and gravel (25 and 50 per cent respectively) into the big concrete mixer. Also, a mixer is being used in the cement-making.
Follow Us on IELTSFever Twitter