The maps below show the town of Lynnfield in 1936 and then later in 2007. Summarise the information by selecting and reporting the main features, and make comparisons where relevant.
---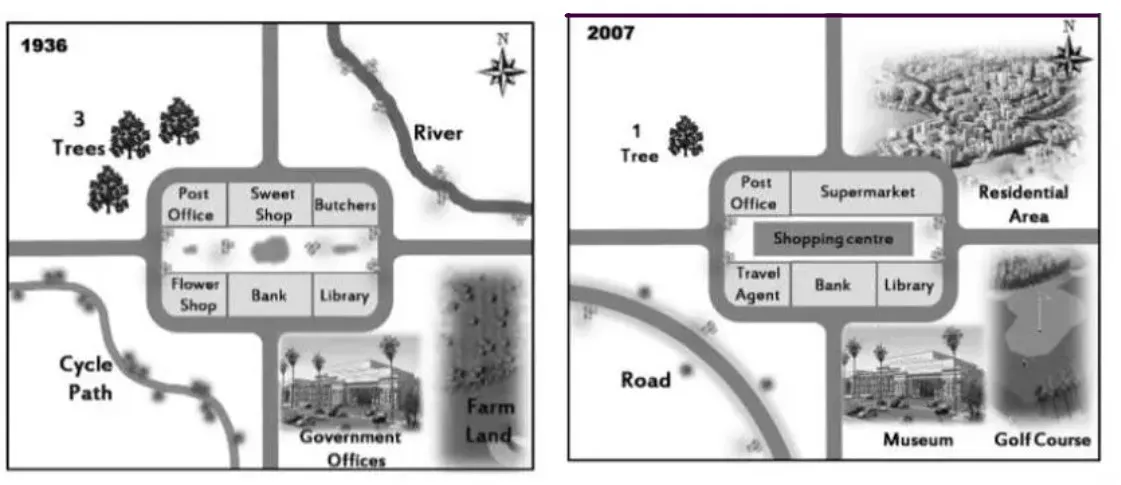 The maps provide information about the city of Lynnfield in the year 1936 and how it had been in the year 2007. Overall the master plan of 2007 is much more symmetrical from the past decades, and natural reservoirs had been converted to residential apartments.
Firstly, in the year 1936, the Northwest part of the city contained some trees, whereas the Southwest part had a cycle path. Moreover, the Southeast part had higher legislative offices and farmland just adjacent to the offices of bureaucrats. The North-East part contains a natural reservoir.
Furthermore, in the centre part of the city, there is a post office, sweet house and butchers on the right side and a flower shop, bank and a library on the left side. However, the centrally planned building had been connected to a road that further bifurcates into four directional ways.
Secondly, In the year 2007, the orientation of the central plan remained the same, but the sweet shop and butchers had been changed to the supermarket. Whereas, a shopping centre had also been introduced in the central planning of the city and flower shop had also been changed to a travel agent office. Moreover, in the southwest and southeast of the city, government offices and farmland had changed to the museum, golf course and a road respectively. However, on the opposite side, we can see the reduction of trees to 3 fold. Moreover, the reservoir had been changed to residential areas.
Follow Us on IELTSFever Twitter
Also read: The Maps Below Show Pebbleton 20 Years Ago and Today