The graph below shows how elderly people in the United States spent their free time between 1980 and 2010. Summarise the information by selecting and reporting the main features, and make comparisons where relevant.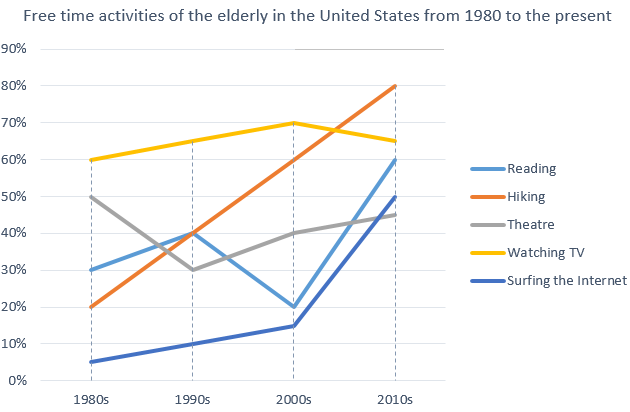 The given line graph depicts how the aged spent their leisure time in the United States between the years 1980 and 2010.
With a reflective overall, it could be illustrated that the elderly in the United States enjoyed Hiking more in their spare time, followed by watching TV, reading, surfing the internet, and the least being the theatre respectively as the years progressed from the 1980s to the 2010s.
From the line graph, it could be observed that in the year 1980s, 60% of the elderly enjoyed watching TV followed by 50% being in the theatre, 30% reading in their free time, 20% going hiking and finally 5% of the aged surfing the internet. With respect to hiking, it had a positive curve starting from 20% of the elderly engaging in their free time. It moved on the slope to 40%, 60%, and 80% respectively in the years of 1990s, 2000s and 2010s. Watching on Tv had 60% in the initial year, and gradually increased to 65%, then 70% reaching its peak and steadily declined to 65%. But the lines of watching TV and hiking emerged in the
With respect to the theatre, it had a sharp decline and gradually increased in the year 1990s to 2010s recording 30% to 45%. Reading also had a zigzag curve where there was an increase and a decline. The lines of reading and hiking emerged in the year 1990s, having 40% representing each activity enjoyed by the elderly during the hours of their free time. Finally, surfing of the internet had 10% of the aged in the year 1990s, it's gradually increased to 15% in the year 2000s and finally had a swift curve reaching its peak in the year 2010s having 50% of the elderly.
Follow Us on IELTSFever Twitter
Also Read Some People Say that We Are Spending Too Much Money on Personal Events Such as Weddings