The diagram below gives information about the recycling of glass and plastic containers. Summarise the information by selecting and reporting the main features and make comparisons where relevant.
---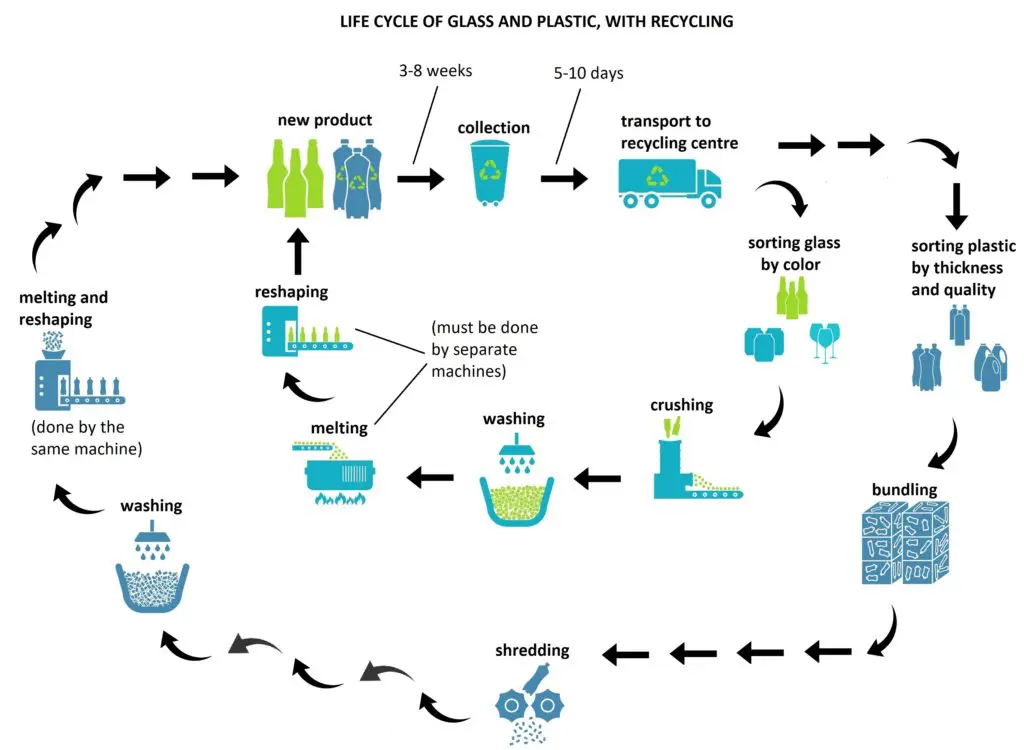 The given illustration gives information about the recycling process of plastics and glass.
The lifecycle of plastics starts with the collection of waste containing plastics. Then, after 5 to 10 days, this collected waste is transported to the recycling centre. After that, this product is bundled according to thickness and quality. Further, it is shredded in the shredder and purified by the washer. In the same machine, the purified plastic is melted and reshaped into new products, and the same cycle follows after 3 to 8 weeks.
Recycling of glass bottles follows the same path with includes collection of glass bottles and taken to recycling centre after approximately two weeks. Likewise plastics, glass bottles are sorted as per the properties and passed to the crusher for crushing. These crushed glass particles are washed and melted at an appropriate temperature to form a molten mass.
Then, this molten is taken to another machine for reshaping to form new products. In the end, these new products are used by the consumer and after almost a week, the same cycle follows.
Follow Us on IELTSFever Twitter
Also read: The Diagram Below Gives Information About the Hawaiian Island Chain