The charts below show the main reasons for study among students of different age groups and the amount of support they received from employers. Summarise the information by selecting and reporting the main features, and make comparisons where relevant.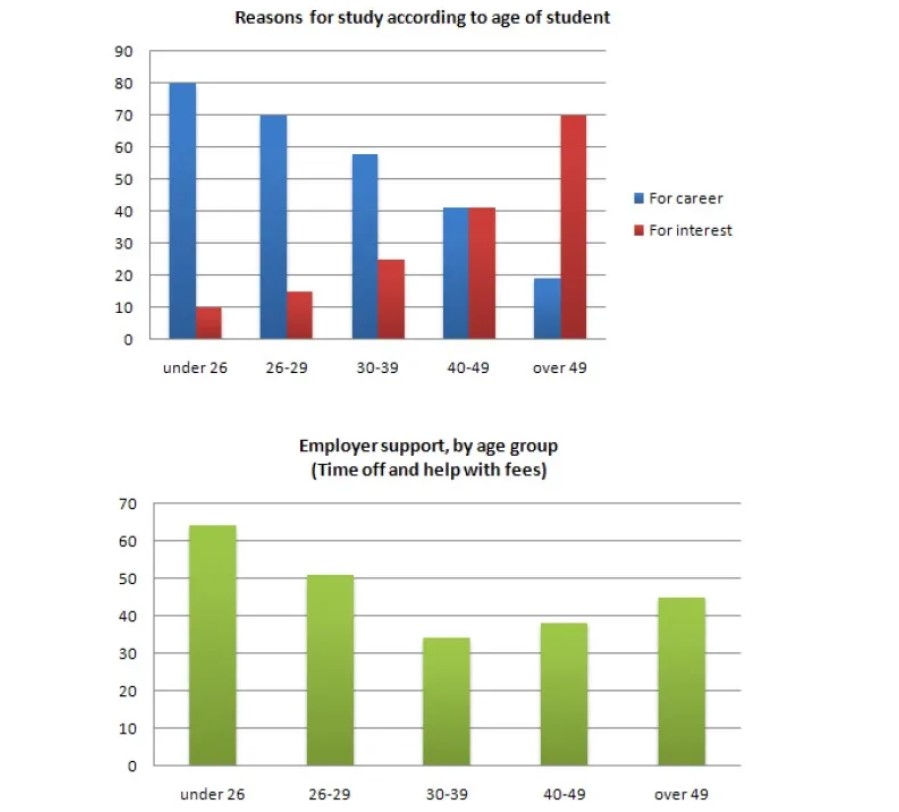 Sample Answer of The Charts Below Show the Main Reasons for Study Among Students of Different Age Groups
The chart illustrates that employers are supporting the students with time off and fees in different age categories. The student's reasons for the study is career and interest. The age category is under 26, 26-29, 30-39, 40-49 over 49.
Most people study for a career at age group under 26 that is 80, and for interest study only 10. The support gets in under 26 is above 60. The ages between 26-29 in this age for a career is 70 for interest is above ten and support they get is 50. The age between 30-39 for career above 50 and interest above 20 the support they get above 30. The age 40 – 49, the career and interest rate is the same as 40, and the support level is above 30, 38. The next category is over 49 pages. In this age category for a career, only 19 and 70, and their support is nearly 45.
Overall, the people study for career is age category under 26 for interest the people study is age category over 49. The employees have more support for the under 26 age group and less support from age groups 30 to 39.
Follow Us on IELTSFever Twitter