The bar chart below shows the popularity of well-known Instagram accounts in 2011 and 2021. Summarise the information by selecting and reporting the main features, and make comparisons where relevant.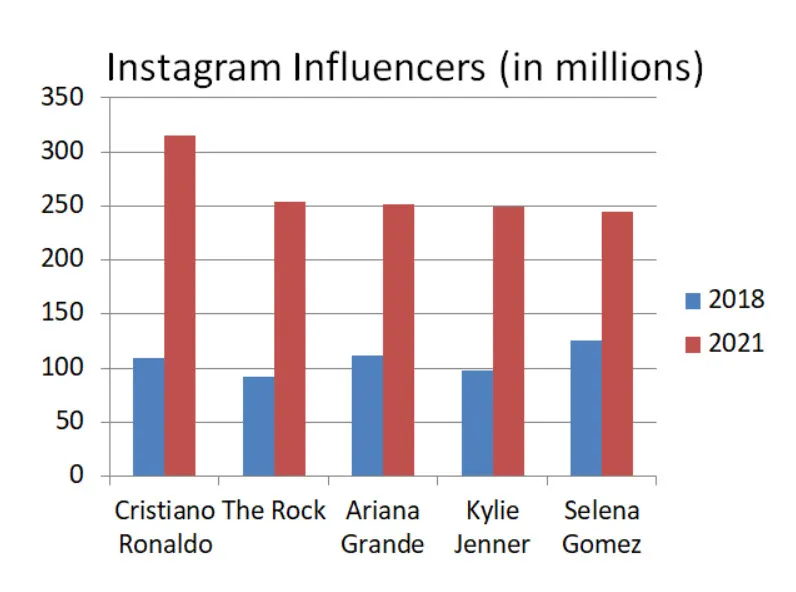 Sample Answer of The Bar Chart Below Shows the Popularity of Well-Known Instagram Accounts in 2011 and 2021
The bar chart compares in millions the followers of Christian Ronaldo, the Rock, Ariana Grande, Kylie Jenner and Selena Gomez on Instagram In 2018 and 2021, respectively. Selena Gomez was at the onset the most popular followed personality. However, Christiano Ronaldo took over recently with more followers than the rest.
Overall, Selena Gomez was well known in 2018 with over 130 million fans, followed by Christiano Ronaldo and Ariana Grande with 120 million followers each; although the Rock was famous(90 million)however, Kylie Jenner was more popular with about a hundred million followers that year.
In 2021, with over three hundred million admirers, Ronald became the most popular influencer on social media, followed by Rock, Grande and Jenner with equal fans of two hundred and fifty million each, but Gomez, who was the most sought after personality in 2018 lost its popularity with less than 250 million fans.
Follow Us on IELTSFever Twitter
Also Read Some People Believe that It Is Best to Accept a Bad Situation