IELTS is an international English learning test system which helps us to do study and work abroad. It is a paper-based exam of the English language. There are types of IELTS course here, Academic IELTS and General IELTS to go abroad for study and work respectively.
There are four modules in the IELTS course- Listening, Reading, Writing, and Speaking. A person has to do practice for each module to get good band scores.
Here is the structure of IELTS modules–
Listening module
In this module, one has to listen to the CD in which native speakers of English language talk with each other and you have to write the answers in the Listening booklet carefully. The CD of IELTS exam is played once only. There are four sections in listening tests which start from simple questions too difficult questions. At the end of tests, you should have to transfer your answers to an answer sheet in ten minutes. To get a good score in this module, a student should do the practice.
Reading module
This is the second module of the IELTS course in which one person should read the English paragraphs and find the questions. There are three sections in the reading tests which you have to do in 60 minutes. at the same time, you have to transfer your reading answers to an answer sheet but no extra time will be given for this such as in listening test, you get 10 minutes at the end of the test to transfer answers. In the reading test, there may be many types of questions exist including blanks, multiple choice questions, match the statements, heading of paragraphs and so on.
Writing module
In this module, there are two tasks, writing task 1 and writing task 2. In Academic IELTS, in the first task, one person has to describe a chart or map or process chart. In the second task, you should explain your opinions or ideas for a particular statement or argument. In addition to it, in the General IELTS exam, students have to write a letter but the task 2 of it is same as Academic IELTS. The practice is very necessary for getting good scores in this module.
Speaking module
It is a most important module of IELTS in which you have to communicate with English speaker as well as, give the answers to some questions. In this, there are three sections, In part one, a student has to answer for some introductive questions. Then, in the second part, a pupil has to speak for 2 to 3 minutes in English about a particular topic. Moreover, in the third part, a juvenile has to express his or her opinions by giving answers to questions.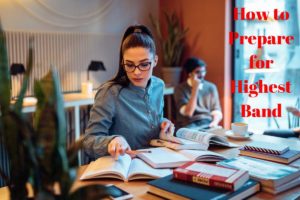 How to Prepare for Highest Band
To prepare for the IELTS exam, learners should join a good institute to get higher band scores in it as well as, he or she can get online coaching. To gain good scores in IELTS exam, you have to do lots of practice and you can prepare for it in various ways.
First of all, for the listening module, you need to listen to the English talk of English speakers by putting earphones in your ears. After it, you have to listen to it carefully and write answers in the answer sheet by just catching words of English talk. Also, first, examine the answer sheet that what are they asking for? and then, listen to the English conversation as well as surf CNN or BBC World News.
In addition, for the reading module, you have to learn time management skill to get scores in it because it is very necessary to complete your task of three sections in just one hour. There are various types of questions in the reading test such as paragraph headings, match the statements, fill in the blanks, true+false+not given, multiple choice questions, selecting options, and so on. You have to know about all the types of questions which are mentioned above.
Apart from it, For writing module, you have to understand various types of arguments for which you have to express your own views. There are two tasks in it, writing task one which is a chart or process chart or map or a letter but in the second task, a statement is written in the booklet and you have to write about it on the answer sheet. In this, your writing ability is tested by examiners.
Moreover, In the speaking module, you have to speak in English for a long time with others. To get fluency in spoken English, speak the English language with your peers and teacher.
So, this information will help you to gain proficiency in the English language.